Previous Grant Winners
L'OREAL ANNOUCES THREE AWARD WINNERS FOR THE
AFRICAN HAIR & SKIN RESEARCH GRANT 2020
Paris on 12 October 2020
– The L'Oréal group, the World's leader in beauty products, has announced today the three winners of the 2020 edition of its African Hair & Skin Research Grant. The winners, from
Ivory Coast, Madagascar and Burkina Faso
were chosen by a panel of seven African and international scientific jury. They will be awarded
financial and mentorship support
for their one-year research projects.
Established in 2013, L'Oréal's African Hair & Skin Research Grant aims at promoting African scientific excellence, through encouraging clinical and basic research, conducted by scientists from the Continent, on African skin and hair – a field that remains largely unexplored. In its 7 years of existence, the grant scheme has received over 40 research proposal submissions from 17 Sub-Saharan African countries.
In October 2020, at a virtual award ceremony, L'Oréal granted three research grants to three African scientists for the value of their research work on the physiology of African skin and hair. These are:
Dr Yao Isidore KOUASSI
, Universite Felix Houphouet Boigny, Ivory Coast for the project on Assessing Adult Acne Risk Factors in Tropical Africa
Pr Pascal NIAMBA
, University Joseph Ki-Zerbo Ouagadougou, Burkina-Faso for the project on Study of the genetic polymorphism of transforming growth factor receptors (TGF-βRI, TGF-βRII) and susceptibility to keloid scars in Burkina Faso
Pr Rabenja RAPELANORO
, University of Antananarivo, Madagascar for the project on Evaluation of the role of filaggrin mutation as a predictive factor of atopic dermatitis in Malagasy patients
| | | |
| --- | --- | --- |
| Dr Yao Isidore KOUASSI | Pr Pascal NIAMBA | Pr Rabenja RAPELANORO |
With the third ceremony of the L'Oréal African Hair and Skin Research Grant programme, L'Oréal and L'Oréal Medical Directorate wishes to highlight its strong commitment to African researchers and its ambition to contribute to the development of scientific excellence of researchers in Africa.
The three winners, from Senegal, Kenya and Nigeria were selected based on the scientific value, quality and originality of their research proposal, from more than 30 applicants, anonymously by a jury of 10 international experts on African hair and skin.
The grant offers funding for one year research project, and in addition, personalised feedback on research proposals from the selected panel of 7 African and 3 international experts of African hair and skin. The grant winners also gain visibility and a network of scientists to tailor and guide their research thus opening the door for future opportunities.
These 3 brilliant researchers were awarded a research grant at an exceptional ceremony on the 7th October 2019, in the presence of a distinguished audience in the senegal dermatology community, including representatives of public authorities, scientists, academics, intellectuals, thought leaders and organisations promoting healthy skin.
President of the jury
Dr Ophelia E. Dadzie
2019 Winners
1st prize winner

Dr Abdelmajid Khelif, Senegal

1st runner up

Dr Evanson Kamuri, Kenya

2nd runner up

Dr Anaba Ehiaghe, Nigeria
SOUTH AFRICAN DERMATOLOGIST AWARDED L'ORÉAL AFRICAN HAIR & SKIN RESEARCH GRANT
The clinicopathological spectrum of sub clinical acne keloidalis nuchae with correlation to its dermoscopic feature: a cross –sectional analytical study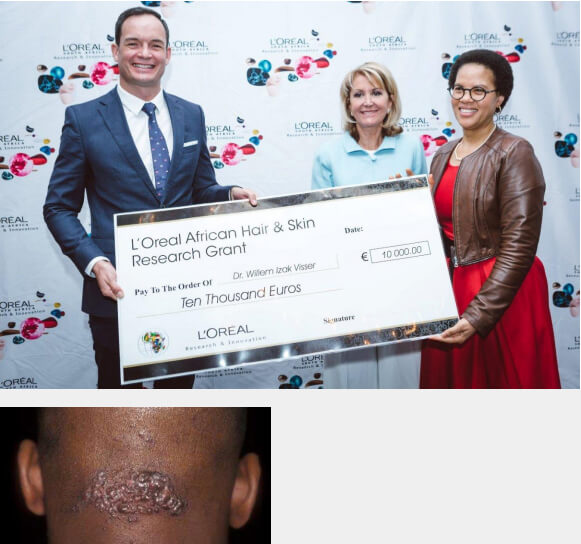 Dr Willem Visser, Head of Dermatology, Stellenbosch University has been awarded the L'Oréal African Hair & Skin research grant for his research on Acne keloidalis nuchae (AKN). The award is open to all dermatologists and African PhD students specializing in the science of skin and hair.
Acne keloidalis nuchae (AKN) is a skin and hair condition that predominantly affects males with afro-textured hair and patients of African or mixed descent. AKN affects the nape of the neck and produces pustules, results in permanent hair loss and large areas of scarring. AKN may also affect areas beyond the nape of the neck. Dr. Visser's study aims to investigate the earliest manifestations of its spread. The descriptive study's objective is to describe the dermatoscopic and histopathological features of sub-clinical or early acne keloidalis nuchae.
For patients or men in the community who are concerned about this disorder, the study aims to empower dermatologists to identify early markers of disease. For patients who are already diagnosed with AKN and in the care of a dermatologist, this study will aim to provide clinical tools to assess further spread of the disease. According to Dr Visser "If this disease is diagnosed early on, treatment may be initiated sooner and the distress associated with this disorder may be significantly lessened."
The grant supports a one-year research project in Sub-Saharan Africa and the winner receives an amount of 10 000 Euros. The research grant aims to promote clinical and basic research on ethnic skin and hair physiology conducted by African scientists in Africa.
"L'Oreal's Research & Innovation team is passionate about information sharing and ongoing research when it comes to hair and skin. Our recently inaugurated Research & Innovation Center in Johannesburg will collaborate with the African scientific ecosystem, universities, dermatologists, natural biodiversity centers as well as hairdressers," explains Dr Michele Verschoore, Medical Director, L'Oreal Research & Innovation.
The jury is made up of seven African and two international experts with the necessary expertise in their respective areas. Jury member and renowned dermatologist, Professor Ncoza Dlova from the University of Kwa-Zulu Natal described the research as "Relevant, practical, important and innovative.''
INFO: http://pharmaceuticals.einnews.com/pr_news/341270892/south-african-dermatologist-awarded-l-or-al-african-hair-skin-research-grant
L'Oréal African Hair & Skin Research Grant
Awarded project:
"Common Gene Expression Patterns in central centrifugal alopecia (CCCA) patients"

Dr. Khoza Nokubonga, Durban, South Africa is specialist dermatologist and lecturer in Department of Dermatology, Nelson R Mandela school of Medicine. Her main interest in the field of dermatology are : Ethnic skin and Hair disorders, Immunobullous disorders, and HIV and Skin amongst others.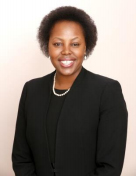 About her research project:

Central centrifugal cicatricial alopecia (CCCA) is a chronic progressive scarring alopecia causing potentially devastating psychosocial consequences and permanent hair loss. CCCA typically presents in the third or fourth decade with alopecia centered on the vertex or crown of the scalp and is likely the most common form of scarring alopecia in African American patients. Clinically, CCCA demonstrates follicular dropout beginning at the vertex scalp and gradually extending peripherally.
Little is known about the genetic basis of CCCA, but an inherited predisposition to the development of CCCA is suggested by the over-representation of this disease in women of African descent, as well as familial clustering of cases.
The objective is to analyze the gene expression patterns in CCCA through study of RNA samples and establish a bank of DNA samples from 250 patients with CCCA.